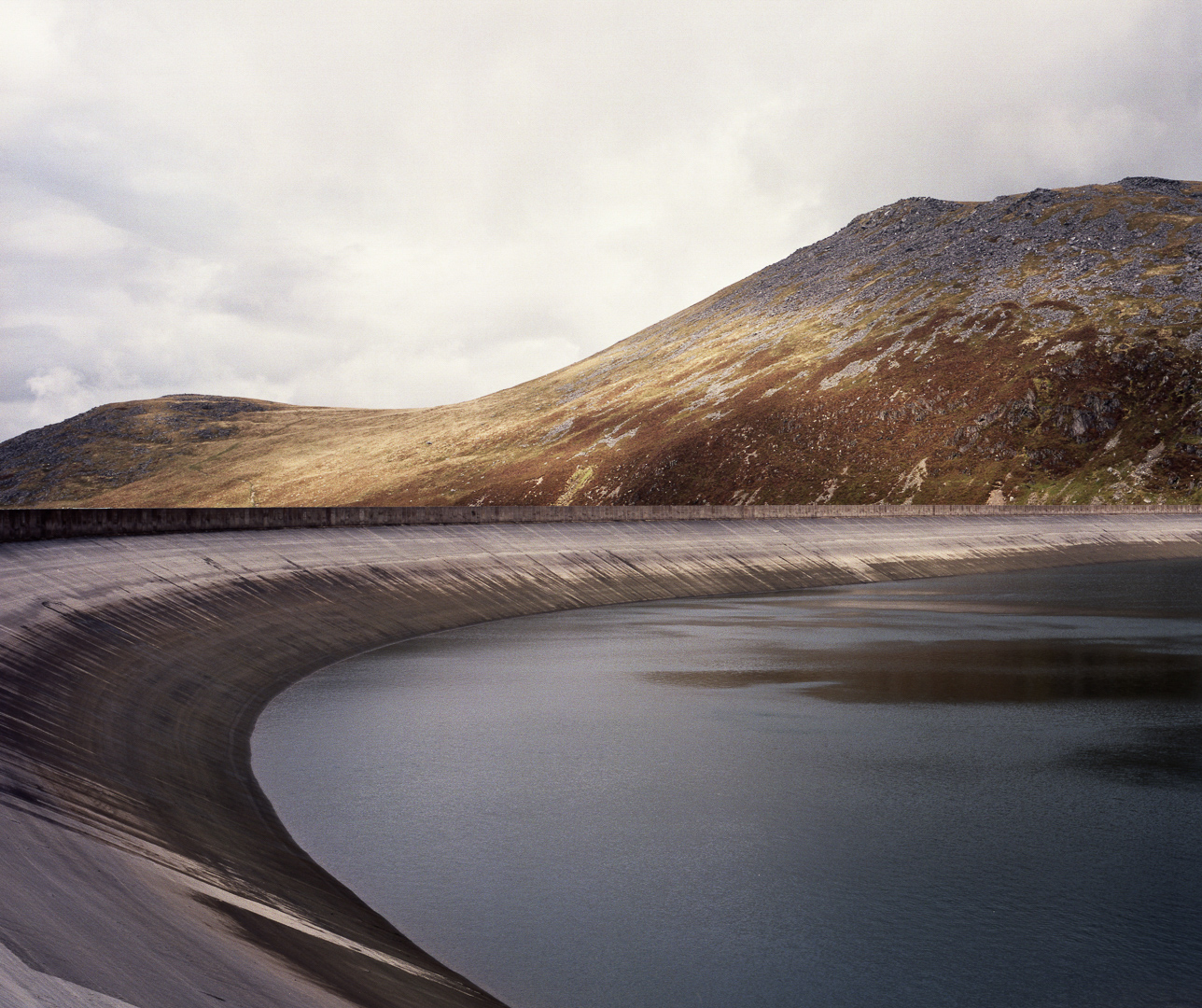 From stone quarries that have been active since the Neolithic period and slate quarries that provided roofing for Britain and the world, to modern hydroelectric schemes: The Snowdonia (Eryri in the Welsh language) landscape of 3000ft/1000m mountains, valleys and lakes is one of the world's most beautiful landscapes that also bears the scars of man's industry.
There is a very understandable deluge of often formulaic images from this part of the world, especially on social media and in the press. Although valid, I feel it's also my role to challenge and explore as a local photographer. The more people reasonably strive for aesthetic perfection in their imagery of this beautiful area, the more I also want to reveal an alternative. I want to provide images that avoid the familiar and invite questions from the viewer.
Of course, as soon as man settled and farmed in Wales after the ice age, the process of altering the landscape has continued to this day from farming and quarrying to footpath erosion. However, a national park status conserves the already altered as well as the original. The park boundary sometimes circumvents areas of intensive quarrying on the same mountain feature to preserve its dignity.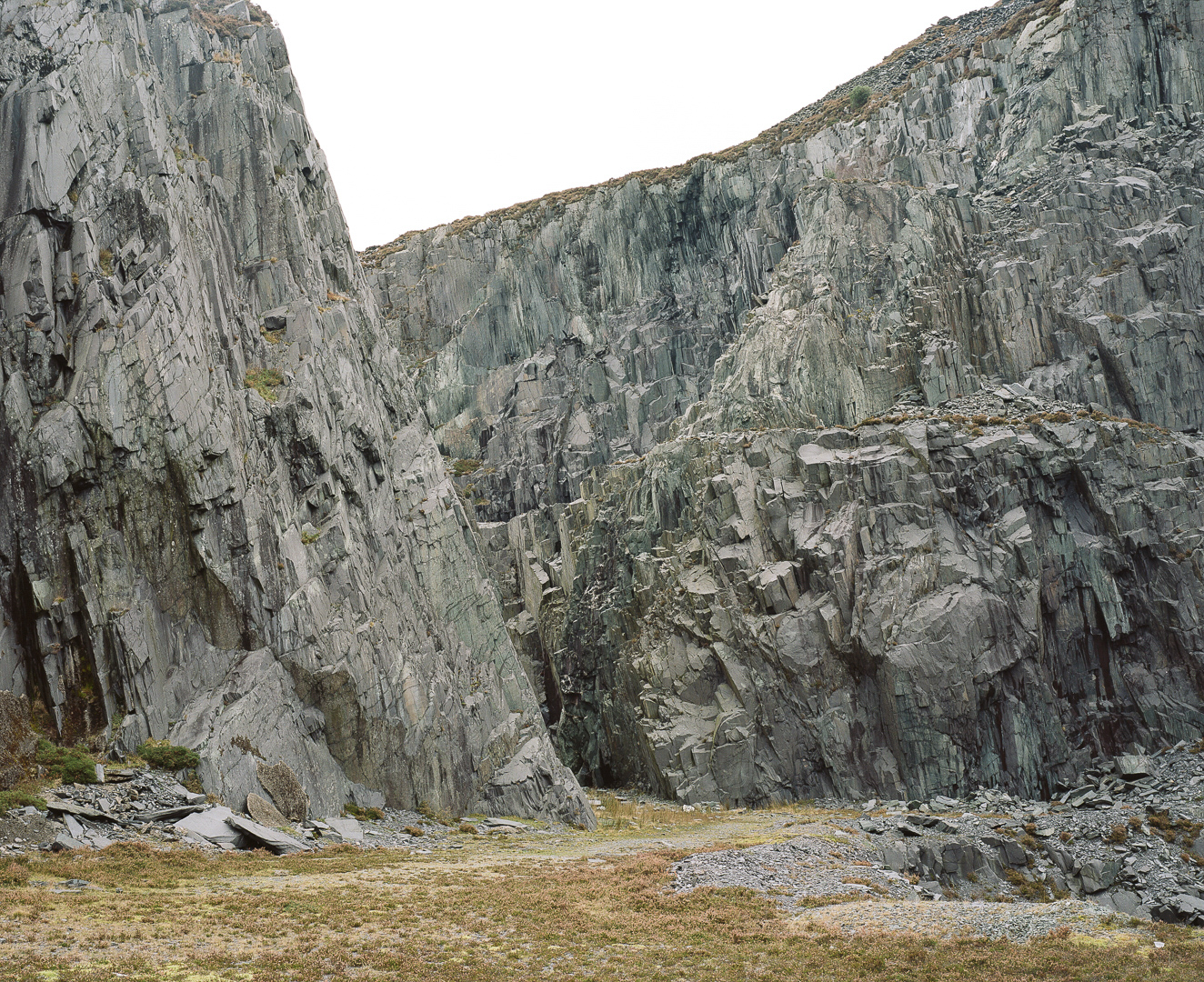 Through these many activities the underlying geology of Wales is richly revealed in this series. Sedimentary slate in hues of grey, blue and purple, the ubiquitous cold, grey granite and many varied igneous rocks all add to an alternative colour palette when exposed from beneath the cloak of heather, bracken and peat.
Specific locations include the Penmaenmawr Quarry, which produced polished axe heads 5,000 years ago. In modern times it provided aggregate for a bypass in Hamburg, Germany and is still active today. The enormous Dinorwig Quarry covers 2.8 km2 and was active from 1787 to 1969, extracting slate. It spectacularly dissects an entire mountain, exposing strata and leaving vast heaps of slate spoil. In both quarries, piles of rocks form their very own landscapes in miniature.
Elsewhere, with the need for clean, hydroelectric power, access roads and dams intrude to the highest parts of the wild uplands. Often shrouded in the clouds, there is a strong, visceral sense that they shouldn't be there.
These are studies that reveal both the beauty of what is hidden underneath the surface and the new topography as a consequence of man's industry.
Selected images from Robert's Snowdonia Revisited series are shown below
ABOUT ROBERT LAW
Robert Law is an emerging photographer based in Wales in the UK. He specialises in fine art, documentary and minimalist photography. Throughout his body of work you will hopefully see a cohesive style of observation and picture taking that provides the viewer with a fresh honesty and reality.
Robert is a contributor to Millennium Images, London. His work been featured in print, online and group exhibitions. He is also active in the photographic community where he contributes articles, images and helps promote and encourage photographers of all levels.
Website: wtgphoto.com
Instagram: @With The Grain
Facebook: @With The Grain
CREDITS
Unless otherwise stated, all words and images in this article are © Robert Law