INSIDE THE OUTSIDE
2016 Exhibition
The Inside the Outside collective would like to extend a personal thank you to everyone for helping make this exhibition the success it was. So…
Thank You!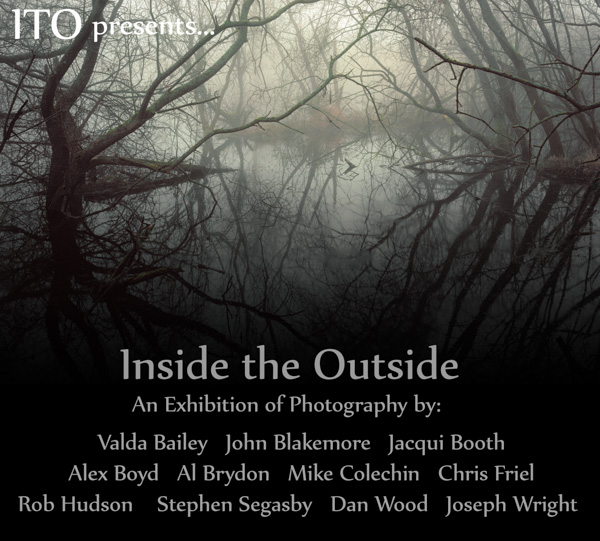 The
ITO collective
are extremely proud to launch their inaugural photography exhibition.
Presenting an extensive lineup of hugely inspiring ITO member and guest photographers.
With a series of associated events during the exhibition period.
Featuring…
WHEN
14th October until 13th November
The launch and private view
Friday 14th October 2016
18:00 – 20:30
The exhibition event
Saturday 15th October until Sunday 13th November
10:00 – 16:00 every day
WHO
An inspiring line up of ITO member and guest exhibitors
Unit 8 Karlsruhe House
18 Queensbridge Road
Nottingham
NG2 1NB
UK
We will be holding a number of workshops and talks, with limited places, signup to our list and be the first to find out about these
---
---
Don't worry – we will never pass your details on to anyone else
More events will be taking place whilst the exhibition is running, you can check back here for updates.
Alternatively, get real time updates from our
More information
Will the work on view be available for sale?
This can be arranged directly with the exhibitor.
Is photography allowed at the exhibition?
Yes. Please respect the copyright of the exhibitors though.
Is there parking available at the location?
Yes, but in effect no! There are a few spaces at the venue but these are generally taken from early in the morning. We would highly recommend if travelling by car using one of the public pay carparks nearby. (View on Parkopedia online)
Can I get there by public transport?
Absolutely. The venue is situated close to Nottingham city centre so is well serviced by public transport. Nottingham train station is just 2 minutes' walk from the venue.
I want to make a day of it or even stay over, where can I stay?
Nottingham is a popular travel destination so caters for a regular flow of visitors with an extensive choice of accommodation options. A good place to start your search would be the Experience Nottinghamshire website.
I have restricted physical mobility, will I be able to access the venue?
Whilst there are no access restrictions within the venue itself, the gallery space is located at the top of a historic building and accessed by three flights of stairs. To avoid disappointment please contact us in advance so we can discuss your requirements.
Are there any facilities at the venue?
Toilets are available at the venue. If you're feeling peckish Nottingham city centre is a short walk away or pop to The Vat & Fiddle pub next door.
The building appears to be closed, how do I get in?
The venue is situated in a shared building with a secure entrance. Simply ring the buzzer marked 'Photo Parlour' to contact a member of the exhibition team. They will then release the door to let you in. Head straight up the stairs to the top floor.
How can we contact you for any other questions?
You can get us through our online contact form – here
Disclaimers
We have no affiliation with any of the mentioned websites or business, neither can we take any responsibility for the accuracy of their content or any subsequent issues you may incur as a result of using the information they provide.
In attending the event, in any of its forms, you voluntarily assume all risks incident to the event, including the risk of lost, stolen or damaged property or, personal injury.
Scroll through the calendar to view events
Update:
All associated events are now sold out
We look forward to you joining us at the exhibition and events